Visit our Gallery Today
New Work, Fun Colors, a Bright New Look
Support Local Business
Support Hand Made
Support the Arts
Preserve Unique Places in Pittsburgh
Visit us at Fireborn Gallery… where pottery, handblown glass, and jewelry by over 50 artists are on display. The pottery includes unique one-of-a-kind pieces, large showpieces, dinnerware and serving pieces, tea and sushi ware, mugs, bowls, sculpture, wall-hangings, and experimental designs and glazes.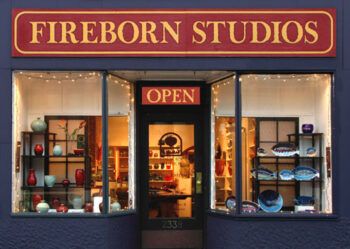 Reviews
Janice Mirra, 5 stars, Yelp, February 21, 2016
I have purchased beautiful unique pottery gifts from Fireborn Studios for years. Everyone I have given them to has loved them. I enjoy giving a one of a kind gift that will be used and enjoyed. The glazes are extraordinarily gorgeous and varied. And there is always a wide selection that is changing all the time. You are sure to find something you like. I purchased a teapot years ago that I use every day. I love it as much today as the day I chose it! To see more reviews click here.
Thoughts
How do simple, beautiful objects bind us together?
Because objects obviously made and touched over time by one human, especially objects transferred to another human being, sometimes passed down from one generation to another, connect us to family and community and culture. The connection between artist, object and user is important.
Evolution
My work is always evolving, but recently it has been evolving faster than ever. That means LOTS of new, more colorful glazes. My latest work includes carved celadon platters, vases and pitchers, and large ash-glazed vessels. I just got back from a trip to North Carolina and I am feeling the influence of traditional forms, wood firing and large pots.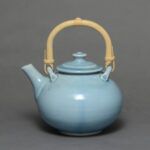 Nice Note
Dear Fireborn, Mr. Vito and everyone there in PA,

I write to you from Cape Cod. Years ago I got a bowl with the name Fireborn scrawled into the bottom. A few weeks ago it slipped out of my hands while I was washing it and broke in the sink. It's my favorite bowl. I know it probably sounds weird but this bowl inspired me to cook. I loved it. My daughter and I made cookies, breads, pancakes…everything and it brought me joy in the kitchen. It's been a tough couple of years and this bowl breaking just devastated me. I'm hoping I can replace it somehow. I'm including a picture. After looking through everything on your site I guess it's the Glacier glaze. The bottom of the bowl measured about 4.5 inches and the top probably about 12 inches and it was about 5 inches high. I hope I can replace this bowl. Can you please help?

KC

Mashpee, MA, 2012
SaveSave
SaveSave
SaveSave
SaveSave
SaveSave
SaveSave
SaveSave
SaveSave
SaveSave
SaveSave
SaveSave
SaveSave
SaveSave
SaveSave
SaveSave
SaveSave
SaveSave
SaveSave
SaveSave