This video was taken in in a small studio in Jingdezhen, China. The techniques are quite different than what is common in the USA. The mystique of throwing and the focus on it belies the fact that, although throwing begins the process of making a pot, trimming takes two or three times longer than throwing. All the steps, throwing, trimming, glazing and firing are crucial. And don't forget the other hundred steps involved in making a pot.
In this next video, you'll see a huge pot thrown in 2 minutes 22 seconds, almost effortlessly. I almost did a voice-over commentary, by decided to let you watch it for yourself 50 times to pick up every nuance.
In video bleow, from Jingdezhen you see another thrower with similar technique.
Master Ho is another Jingdezhen thrower. His technique is also similar. He does mostly custom work from drawings or photos. Here someone showed him a sketch on his phone and asked him to throw this pot. He is a bit slower than the other potter, but this is a custom job. He is quite fast on porduction work and can throw almost anything. See the stills below the video of some of his work.
These are odd pieces but that's what was ordered. I think the lopsided things are very interesting. I think he might have moved the bat off-center part way through a pull to get that effect.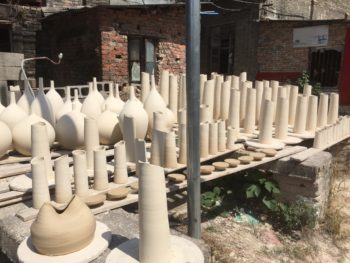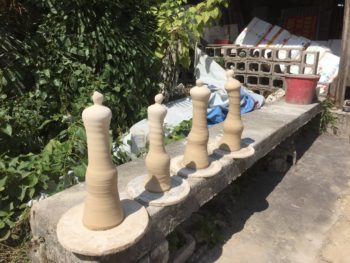 In the next video we fast forward as three brothers work on the beginning of a monster pot. Totally insane.